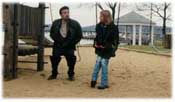 I will make no attempt to avoid butchering this film with this summary; No summary could so this one makes no claims to! This is only helpful as a jog to your memory (character names, etc.) if you've already seen it: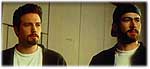 Holden McNeil (Ben Affleck) and Banky Edwards (Jason Lee) are the comic book creators: Holden falls in love with Alyssa Jones (Joey Lauren Adams) - the lesbian - and Banky is the threatened/jealous roomate that detests Alyssa.

Alyssa indulges feelings for Holden in spite of her lesbian identification. They make love and begin seeing each other, Banky becomes more frustrated.
After Banky digs up some dirt on Alyssa's sexual history, Holden becomes insecure, manipulatively confronts her with it, and they fight. Holden is confused about his relationships with Alyssa and Banky until Silent Bob relates his "Chasing Amy" story (which mirrors Holden and Alyssa's relationship), confirming for Holden that he loves her and that the problem is his fears, not her history. Hooper (Dwight Ewell), the mutual gay Black friend that draws the "White-Hating Coon" strips, also helps Holden see how Banky senses his relationship with Holden being threatened, and how their friendship is more meaningful than Holden realizes.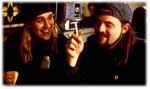 In a final attempt to smooth it all over, Holden attempts to arrange a 3-way between himself, Alyssa, and Banky -- the logic being that Banky is in love with him, he's in love with Alyssa, and by such an experience Alyssa and Banky might learn to love each other. Banky agrees to do it but doesn't have to when Alyssa refuses, disappointed that Holden hadn't learned what she'd hoped from their experience together (and she slaps him for positioning her as a "whore").
The three grow apart, and a year later Banky and Holden share a moment of reflection for their past, and Holden confronts Alyssa with his mistakes. The film's end suggests that Alyssa and Holden could reenter each other's lives...