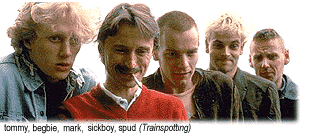 Straight white male on screen I call Francis Begbie from Trainspotting the demon-male... He might've been put in the film for the sole purpose of being hated. He's consistently loud, half-crazed, self-centered and cruel, and this is just inbetween his irrationally violent fits of rage (is it cause his first name is Francis?). I only bring him up (besides his twisted commentary on masculinity) because he's contrasted in an important scene by Mark Renton, who delivers a prophetic and progressive speech about gender and sexuality (see scene below). Mark's speech overdubs a scene with Begbie making out in his car with a woman he met clubbing. As Mark goes on about men and women changing and the state of sexuality, Begbie finds out that his woman is transgendered (presents herself as female, has male genitalia). Later Mark suggests casually to Begbie that it "could've been wonderful" and Begbie threatens to castrate him against a wall... It happens quickly but Begbie's mistake provides some not-so-subtle visual symbolism for Mark's message.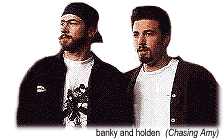 Chasing Amy's Banky Edwards and Holden McNeil are similarly set up across from one other over issues of gender and sexuality. Banky (Chasing Amy) and Begbie (Trainspotting) are both reactionary, threatened by their changing gender/sexual environments. Holden (Chasing Amy) and Mark (Trainspotting) claim these changes and grow as people within them. While Trainspotting provides only a quick and violent intersection between its pair (see scene below), Chasing Amy is written around the friendship between Banky and Holden. Issues of gender/sexuality become increasingly relevant to their friendship, culminating in that suprising exchange at the end. Chasing Amy takes lots of risks, plays with some complex stuff, and offers one of the most radical commentaries on masculinity and heterosexual male friendships available in widely released films.
The dialogue discussed from these films (particularly Chasing Amy)
is sexually explicit. Please back up if that might be uncomfortable for you.