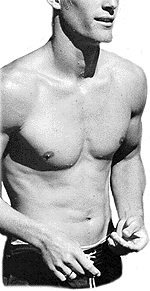 A&F Photography:
Marketing more than the clothes
Remember this from section II?
When individuals like each other that happen to be male, they know (on some level) that they are being "watched" culturally in a way that makes showing affection risky -- the risk is looking less of a man, or womanly, or gay. They compensate as necessary:

They demonstrate affection in the most masculine way they can
any affectionate touching between guys is ritualized within athletic contact to make that contact culturally "safe"